SKILLFit®- Online Skills Assessment
TIA has a skills assessment solution designed specifically to guide the development of team members to achieve the optimal competency for their role.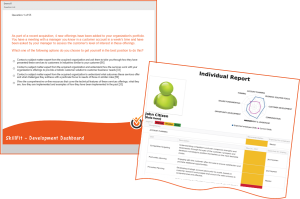 The solution has two key features:
'Development Dashboard' -
this interface provides a uniquely valuable dashboard view that displays at a glance the current skill gaps for an individual or group - 
and then the available training that would address that gap.  

This view, customized to learners and managers, is an innovative development to the TIA assessment platform – a cloud hosted, high performance system built from the ground up to meet the assessment needs of business.
Scenario-based assessment -
based on the experience of years of delivering TIA's behavioural assessment, the TIA Skills Assessment is a deceptively simple model.  We have a matrix of skills and situations mapped to our experience (& that of the client) on the way a 'master', 'journeyman' and 'apprentice' would behave.  By using authentic, role appropriate scenarios we can accurately assess what the participant would do – rather than what they say they would do.
"Development Dashboard – Insurance Brokers Example"
"Development Dashboard – IT Sales Pre Sales & Consulting Example"
Interview-based Behavioural Assessment
We have a number of tools that are used to assess the behaviors, skills, knowledge and mindset of your people. These can be used as benchmarks before and after a development program, a method to ascertain employee learning and development needs as well as a framework to support employee performance and development.
Total Inter Action's sales assessment (example of results below)  provides an objective look at your people's sales strengths,  skills, and specific areas that need improvement in value-based selling. It provides detailed, accurate quantification of  selling abilities across an organization, vital information that allows you to maximise the quality of sales activity.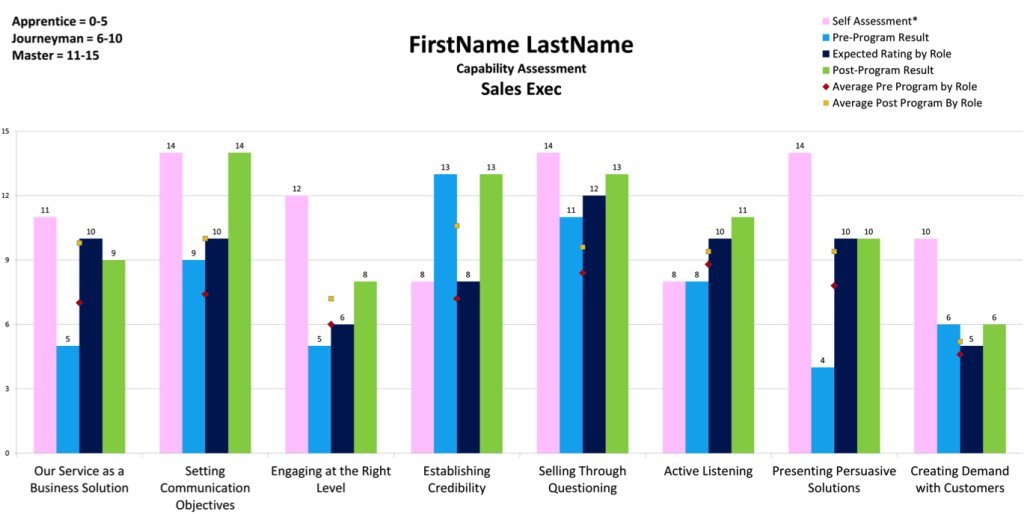 Assessing Will
Ever wondered why sometimes we know what to do but just never get round to doing it?
For many of us the key element that holds us back is not our skill and knowledge, it is our mindset and thinking preferences. In other words, human beings tend to do what they enjoy doing and what comes naturally rather than activity that sits outside our comfort zone.
We use the Herrmann Brain Dominance I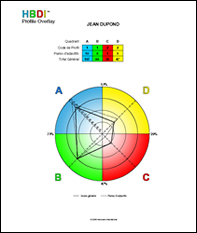 nstrument (or HBDI®) to profile individual and group thinking preferences.  HBDI is the world's leading thinking styles assessment tool.  It identifies your preferred approach to emotional, analytical, structural, and strategic thinking as well as providing you with a visual representation of your preferred thinking and communicating style.
The debrief looks at the impact thinking preferences have on the individuals at work. When married up with the skills assessment, this gives a complete picture of the challenges of learning new skills and implementing those skills.
"The HBDI has completely changed the way I do what I do. I am now taking a whole-brain approach to my work and it has made a significant improvement to my personal success"