For many of our clients their world is changing rapidly and research* shows that if they do not shift the way their people engage with buyers of their services, they are unlikely to survive.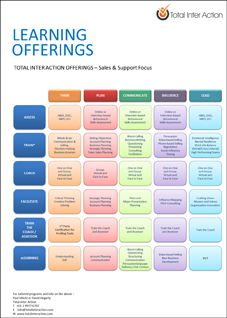 TIA have developed purpose built Modular Offerings that create the shifts in peoples' mindsets and behaviour that are required for that business to be successful now and in the future. The elements that make up the programs can include:
Benchmarking and assessing current skill levels
Profiling current mindset
Self-paced eLearning modules
Coaching on implementation
Creating Coaches out of Managers
Integrating tools into current systems
Some examples of what we have achieved (locally and internationally) through these purpose built solutions include:
Turning reactive insurance professionals into proactive new business development professionals leading to 92% retention of clients, over 10% increase to the business top line and increases in the average number of policies held by clients
Turning trusted, professional services consultants into lead generators leading to a 43% increase in EBITA
Turning product selling, order-taking sales and pre-sales engineers used to engaging with technical buyers (eg. IT Manager) into IT solutions consultants who sell business solutions to executives leading to a 380% increase in average sale.
It all starts with listening and understanding the business results you need and what challenges / roadblocks you are experiencing (or will experience) in achieving those results. We then marry this information up with our in-depth industry research and expertise in behavioural psychology so we can recommend approaches that will achieve the business results you seek.
* RESEARCH BY IDC, FORRESTER AND GARTNER